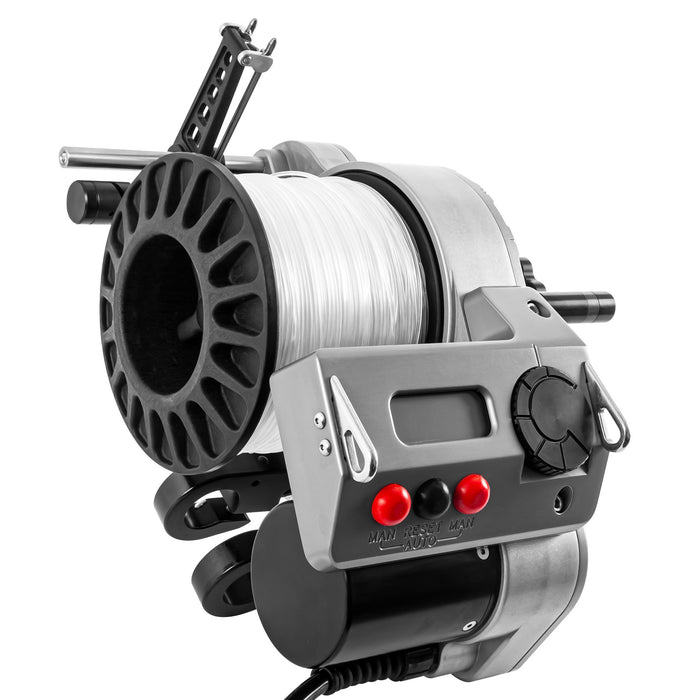 LP SV-1200 Electric Reel - Lindgren Pitman
Sold out
Original price
$ 6,495.00
-
Original price
$ 6,495.00
Fully Variable Speed (50-400 Feet/min.)
110+ lbs. pull at all speeds
Backlit Digital Line Counter
Digital Clicker, Standard
Brushless, Sensorless Motor
Built-in adjustable level winder
Factory Installed Quick Release Hub
Interchangeable Spools
One GFN Composite Spool Included
Lindgren-Pitman SV-1200 Ultimate Electric Reel has fully variable speed 12 volt electric reel from Lindgren Pitman. The SV-1200 provides 110lbs of pulling power at all speeds. Standard features are electronic clicker, built in adjustable level wind and a quick release hub. The SV-1200 is 25% faster on the highest speed setting compared to the LPS1200. No more high/low! 25% faster in high. Goes SUPER creeper slow in low.
Full speed adjustment on demand from approximately 50 to 400 feet per minute
Uses the most up to date reliable electronics package. Brushless & sensorless motor technology allowing increased efficiency and power. True "clicker" is included when activated beeps for each revolution that the spool pays out.
Plus it includes all the great features of the S-1200 including the cantilevered quick change spool design, large back lit display, Fully water resistant and hard coat anodized. The reel is filled with nitrogen to ensure the internals are dry.
This product does not include pre-spooled line unless it has been added as an option. This product is not for use with "Newmar" Type Power Convertors.