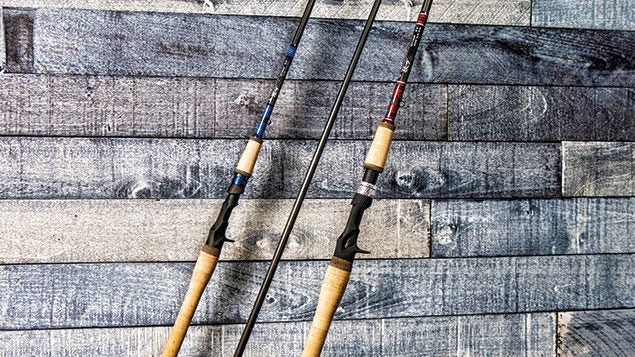 RX7 Multipurpose Saltwater Blanks - Raindshadow
Save

0

%
Save %
Original price
$ 141.65
-
Original price
$ 169.00
• RX7 & RX6 Graphite Blend
• Dynamic Modulus Positioning
• Innovative Resin System
• Salmon/Steelhead, HotShot, Multipurpose Saltwater and Multipurpose Surf
• Technique Specific Designs
• Light Weight
• Subtle Matte Gray Finish
• Limited Lifetime Warranty

The RX7 Multi-Purpose lineup of blanks are designed for those who push the limits. Strength, durability and sensitivity are all achieved through RainShadow's exclusive manufacturing process. We start with RX7 Toray graphite and complement it with a durability blend of RX6 high-strain standard modulus. The blanks are then finished with our exclusive resin and scrim systems.

REVIEWS:
Review of RX7 SW967 Swimbait from CalFishing
"If you could imagine a rod for fishing a huge 8 inch crankbait, this would be the rod. Oh wait, most trout plugs are like giant crankbaits. And that's what makes this rod, which is really a saltwater blank, just about the perfect fit for many swimbait applications. If you like cranking Manns 30+ or DD22's, this rod fishes those baits pretty nicely too."

5-Stars from Steve Bolton (Fairfield, CA)
I've built 3 of these rods already and I'm on my 4th one now. The rod really whips the bait out there and is fluid, no bounce with this blank, casting the Slammer 9″ and a few other baits like the 9″ Castaic Trout feels good. I will contiue to buy this blank for my future swimbait needs.

5-Stars from Jimbo (Canyon, TX)
When I first got into big baits in 2002 I followed Rob's recommendation for the 967. Brian Long twisted one for me and I fell in love with it. Since then I have made 6-7 for myself and a select few friends and it HAS TO BE the primary tool for Talon's and Slammers that we have found. I want to thank you W. Coast guys for the heads up on the equipment side of things as it would have taken us West Texas cowboys a LONG time to figure it out. If you want an all around swimbait rod, the SW 967 has to be IT! Jim

5-Stars from Nico
This rod is perfect for MS Slammers and most other hard medium-sized hard baits/trout plugs. It has the right backbone to easily fling a swimbait but has a nice soft tip to prevent treble hooks from tearing out. If I were to have only one swimbait rod this would be it. It could handle almost any swimbait up to 5 oz if need be.