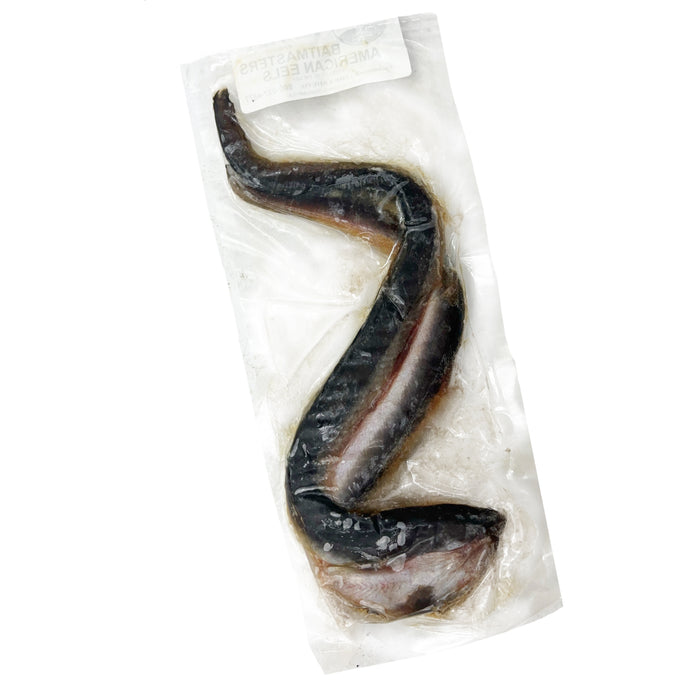 American Eels 2pk - Frozen I'm
Save

0

%
Save %
Original price
$18.00
-
Original price
$18.00
Eels are an excellent bait to rig for trolling, daytime sword fishing and bottom fishing.

American Eels (Anguilla rostrata)

A.K.A: Atlantic eel, black eel, Boston eel, bronze eel, common eel, freshwater eel

The American eel has a slender, snake-like body that is covered with a mucus layer, which makes the eel appear to be naked and slimy despite the presence of minute scales. A long dorsal fin runs from the middle of the back and is continuous with a similar ventral fin. Pelvic fins are absent, and relatively small pectoral fins can be found near the midline, followed by the head and gill covers. Variations exist in coloration, from olive green, brown shading to greenish-yellow and light gray or white on the belly. Eels from clear water are often lighter than those from dark, tannic acid streams.

Frozen Bait Shipping Details

Frozen bait is shipped in heavy-duty foam coolers and packed with dry ice.

**Frozen bait does not qualify for free shipping. details
Frozen Shipping Cutoff Time

All frozen items ship Monday-Wednesday. Shipping cutoff for frozen items is Wednesday at 11am est. Orders with frozen items placed past the cutoff time will ship the following Monday.