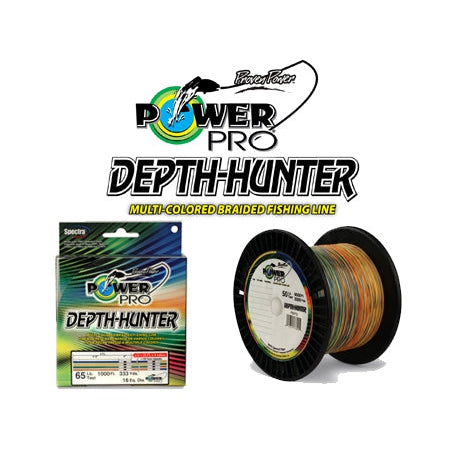 Depth Hunter 500yd | 1500ft - Power Pro
Save up to

0

%
Save %
Original price
$89.00
-
Original price
$123.00
4-Color - Blue / Yellow / Green / Orange.
25ft per color = 100ft / 4-color.
Color pattern repeats every 100 feet.
2'' Black hash or tick marking every 5ft – for precise lure depth placement.
PowerPro Enhanced Body TechnologyTM with multiple-color dying process.
Available sizes: 10lb, 15lb, 20lb, 30lb, 40lb, 50lb, 65lb, 80lb, 100lb & 150lb (150lb available only in 1500yd & 3000yd lengths)
Available lengths: 167yds, 333yds, 500yds, 1500yds, 3000yds
Do you ever wonder how deep your bait is, or how far behind your boat you are trolling your favorite lure, or even how far than explosive cast went? Well wonder no more! Introducing a new metered-line called Depth-Hunter from PowerPro.

There are 4-colors (Blue/Yellow/Green/Orange), with 25 feet of color per segment that repeats every 100 feet. There is also a black tic marking every 5 feet for accurate and instant depth measurement. This allows you to present your lure in the strike zone easily, accurately and repeatedly. This is only available from PowerPro.

Tip: If you ever need depth/casting distance on your reel, spool up with Depth Hunter because it casts and performs just like regular PowerPro and this way you have it on your reel when you need it - also segmented line will appear to break up (camouflage) in water.
PowerPro Depth Hunter Multi-Color Braided Fishing Line is the best way to position lures or bait in the strike zone accurately time and time again. Whether trolling or deep water jigging, you can be confident that your offering will be where the fish are at every drop.

PowerPro Depth Hunter Braid alternates between four different colors (Blue/Yellow/Green/Orange) each color in 25 foot increments. Within each color, a 2" black hashmark appears every 5 feet for precise placement.