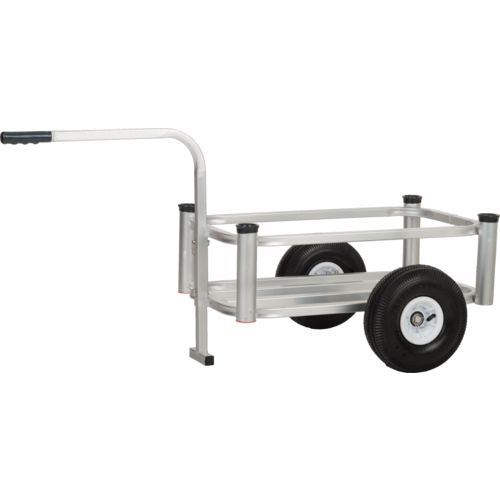 Fish-N-Mate Pier Cart
Save up to

0

%
Save %
Original price
$520.00
-
Original price
$740.00
This newest model cart is just 10" shorter and 2" narrower than the original Fish-n-Mate®. Non-corrosive aluminum tube construction, breaks down for those tight loads and weighs only 19 lbs.! Light yet strong and counter-balanced for carrying lots of gear. Great for the beach or pier, home or garden. Fish-n-Mate® jr. features:

Inflatable 5" x 13" -6 pneumatic tires
Stabilizer legs
Food grade accepted cutting board with removable bait bucket Dimensions:
inside frame 9"X14.5"X34"
outside frame 14"X28"X39" (with wheels mounted/handle removed) Easily accommodates:
Five (5) rods & reels
One (1) 36 - 48 qt. ice cooler
One (1) small sized tackle box
ASSEMBLY INSTRUCTIONS:

1) REMOVE CART FROM CONTAINER AND CHECK COMPONENTS WITH PARTS LIST

2) REMOVE ALL PARTS FROM MAIN FRAME

3) SLIDE 5/8" AXLE THROUGH U-BOLTS AND TIGHTEN U-BOLTS LOOSLY

4) MEASURE AXLE TO GET CENTERED ON FRAME AND FINISH TIGHTENING U-BOLTS: (DON'T OVERTIGHTEN)

5) PUT (1) 5/8" SS FLAT WASHER ON EACH SIDE OF AXLE AND THEN SLIDE A 4" x 13 1/2" WHEEL ON EACH SIDE

6) PUT A 2ND SS FLAT WASHER ON EACH SIDE OF AXLE

7) PUSH 3/32" SS CIRCLE COTTER PIN IN HOLE ON EACH SIDE OF AXLE

8) PUT 15/16" FOAM GRIP TEE HANDLE IN 1-1/16" TUBING. ALIGN TO DESIRED HEIGHT AND PLACE 3/16" x 1 1/4" SS DETENT PIN IN HOLE

9) PUT 15/16" ALUMINUM FROM LEG IN 1-1/16" ALUMINUM TUBE &u INSTALL 3/16" x 1 1/4" SS SPRING PIN

10) PLACE CUTTING BOARD WITH BAIT TRAY INTO ANY ALUMINUM OD HOLDER

11) 3/32" PRE DRILLED HOLE IS ADDED TO FRONT AND BACK OF CART LANYARDS



THE A BACK LEG HAS BEEN ADDEED TO SUPPORT THE CART, IN THE EVENT YOU SIT ON THE CART( NOT RECOMENDED ). THE LEG WILL PREVENT IT FROM TIPPING. REMEMBER TO PUT THE LEG UP AND REPLACE PIN WHEN MOVING CART.