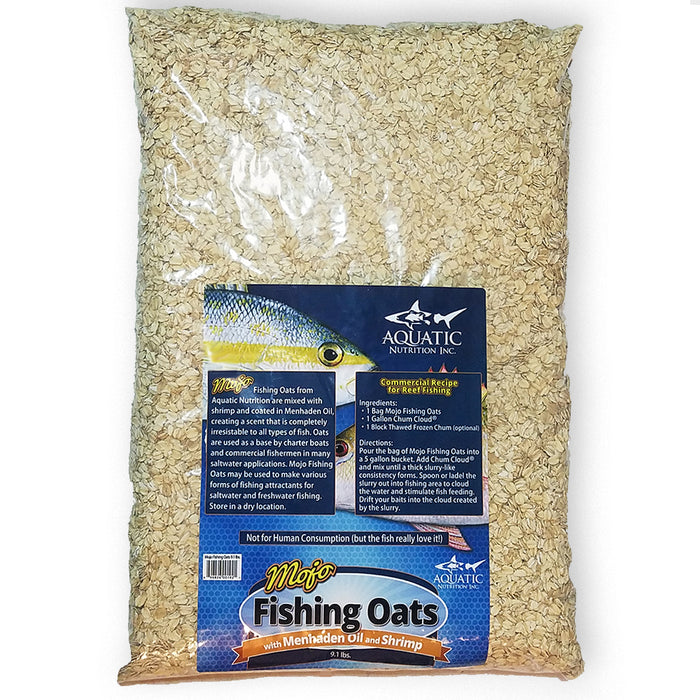 Mojo Oats Blend Chum - Aquatic Nutrition
Save

0

%
Save %
Original price
$34.00
-
Original price
$34.00
For chumming the reef, nothing is quicker, easier or more effective than Mojo Fishing Oats from Aquatic Nutrition™. Like Charter Captains who painstakingly mix their own chum, Mojo Fishing Oats uses oatmeal as a bonding base in this premium commercial reef fishing recipe.
The oats are mixed with real shrimp and coated in menhaden oil, creating a rich blend of feeding stimulants that can be ready for dispersal in just minutes.
Each bag of Mojo Fishing Oats contains 9.1 lbs. of base.
For best results, mix with 1 gallon of Aquatic Nutrition Chum Cloud® (sold separately) in a 5-gallon bucket to form a thick slurry, then use a spoon or ladle to seed your fishing area. You can also add a block of frozen chum (not included) to the mix to supercharge your mixture when conditions are extra-tough.
Great for drift fishing
Simply chum as you drift and fish the cloud in your wake.
Quick, easy and effective
Ready to use in minutes
Premium commercial recipe
Rich blend uses oatmeal as a bonding base
Contains real shrimp and menhaden oil
Best mixed with Chum Cloud (sold separately)
Add optional ingredients, such as frozen chum, as desired
Great for drift fishing on the reef