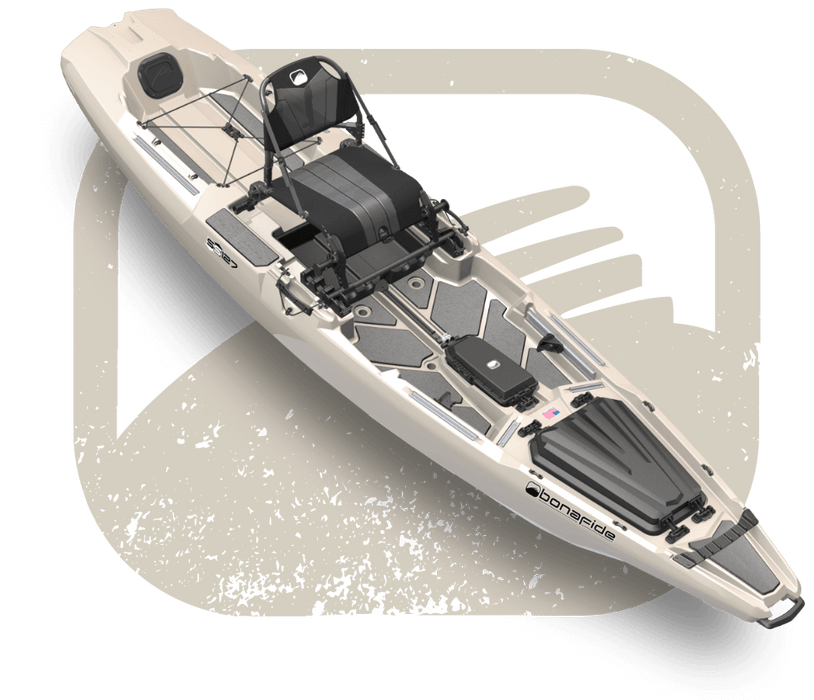 SS127 Ultimate Fishability - Bonafide
Sold out
Original price
$2,206.00
-
Original price
$2,206.00
Length: 12' 7"
Width: 33.75"
Honest Weight: 69 lbs hull weight, 85 lbs w/o seat, 94 lbs w/ seat
Capacity: 475 lbs
Deck Height: 15.5"
Hull Material: Rotomolded Polyethylene
Not Your Run-Of-The-Mill Fishing Kayak
The SS127 "Sit/Stand" fishing kayak is the result of months of R&D and has been carefully designed for Ultimate Fishability™. Designed for maximum stability without sacrificing paddling performance and angler-friendly features where you need them, you really have to paddle this craft to fully appreciate it.

The experience starts with the incredibly comfortable HiRise™ kayak seating system. The ultra high-back seat allows you to sit with your knees bent, taking pressure off of your lower back. If you want to really dig in and cover some distance, the SeatRack™, and foldable seat frame allow quick and quiet conversion to a lower position.

You'll notice right away that the SS127 sit-on-top fishing kayak is one of the most stable kayaks you've ever been in, which is surprising considering its 33.5" width. It's not kind of stable. It's crazy stable. A few paddle strokes later will leave you wondering how a fishing kayak this stable and only 12 feet-7 inches long paddles and tracks so well. Stop paddling, and the next surprise is the smooth and sustained glide. The icing on the cake is that in spite of all of this, the SS127 turns really well. How did we get all of this performance into one hull? We tested, we measured, we refined, and we did it again – over and over and over until we got what we were looking for.

A great paddling sit-on-top or stand up kayak is nice, but a great paddling fishing kayak requires more than just paddling performance. It requires something we call "Fishability". It's feeling confident enough to move around, sit or even standing up to fish. It's having your gear out of the way but within reach. It's the comfort and ergonomics that enable long days on the water. It's every piece, every part, and every function being carefully designed for versatility and with the kayak angler in mind. It's an overall kayak angling experience in which things work the way they should work. For us, the bar was set at Ultimate Fishability™.

Whether lake fishing, river fishing, inshore or offshore fishing, the Bonafide SS127 is truly an incredible fishing kayak ready for all water environments. But don't take our word for it. Visit your local Bonafide dealer, schedule a demo, and try it for yourself. We think you'll agree.