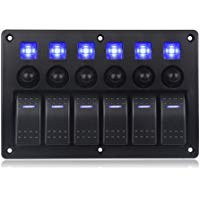 Switch Panels 6 Switches Water Resistant Aluminum Marpac
Sold out
Original price
$128.00
-
Original price
$128.00
Wather Resistant With 6- 4-31-64 X 7-33-64
• Compact, modern design can be mounted vertically or horizontally.
• Splash resistant to IP66 standards.
• Push-to-reset circuit breakers with rubber boots.
• Illuminated contura style rockers glow blue when activated.
• Replaceable on-off rocker switches rated at 20 amps.
•Easy to read labels with included backlight module.
• Corrosion resistant 0.1" (2.54mm) thick coated aluminum alloy faceplate.
• Watertight mounting gasket included.